Table 6 Cafe
SMALL BATCH CATERING with a big heart
Located one block from the Oregon Convention Center, Table 6 Cafe is a one-stop shop of delicious food items to suit any mood.
Table 6 Cafe opened in 2015 and is located on the corner of NE Irving Street and Grand Avenue in a brightly lit and colorful cafe. Since then, the Chef and Owner Cindy has been serving delectable items to satisfied Portland natives, as well as creating a relaxing and tantalizing atmosphere for guests from across the US.
Cindy does her best to honor food diversity, allergies, and provides endless options for vegans and gluten-free customers whom desire the best quality food possible. She prides herself on an eclectic daily special menu, which is split into two categories: adventurous and familiar. So come on in and take the plunge and experience deliciousness!
Phone
(971) 200-6444
Location
622 NE Grand Avenue
Portland, OR 97232
Cafe Hours
M-F 11am-2pm
—Event Space available! Contact Cindy directly for more information—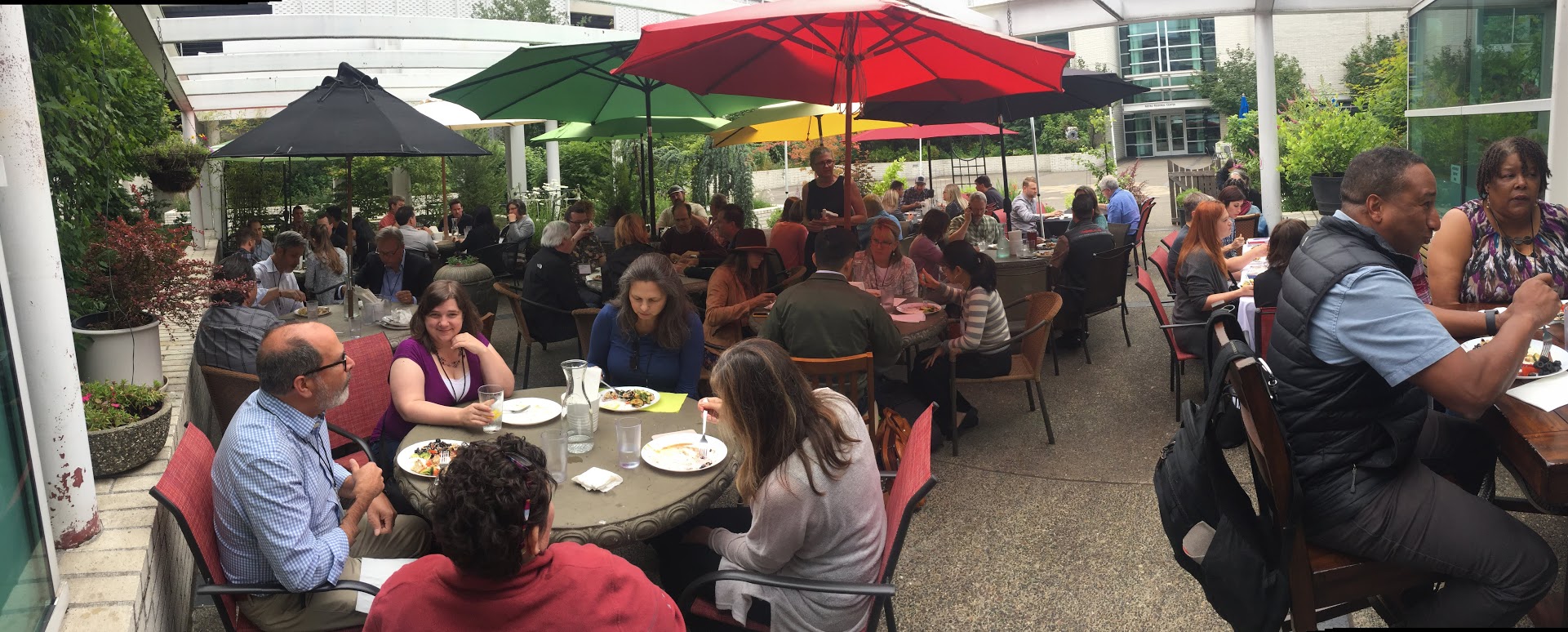 General Catering information
Free delivery within 2 miles. All orders will include an Event Catering Fee of 15% (which includes setting up the meal and breakdown if necessary) and a 3.25% credit card convenience fee, waived if paid by cash/check.
Gratuity is not included, but greatly appreciated and divided among service and kitchen staff.
Catering can be tailored to your personal preferences and needs.
Click the black button at the bottom of this page to begin your catering order. Table 6 Catering looks forward to hearing from you!
DRINKS
Add bottled water, coffee, tea, or soda to any order
_______________________
TRADITIONAL BUFFETS
MEDITERRANEAN DISPLAY
A sumptuous spread of Dips-Hummus, Tzatziki, and Baba Ghanoush, raw and roasted seasonal vegetables, artichoke hearts, olives, stuffed grape leaves, Naan bread plain and crisped, grilled chicken and gyro sandwiches. Gyro's are beef and lamb (can make veg/vegan) and are wrapped and ready for stuffing of lettuce, tomatoes feta cheese red onion and a schmear of tzatziki.
DF, GF, VE, V
DOWN HOME BBQ
Totally approachable meal. We roast our pork low and slow, fork shredded ready for you to top with our spicy Carolina Sauce and mild Honey BBQ. The second entree is smoked chicken. Cooked with apply chips from my (former) tree. So tender and flavorful, you'll be spoiled forever!
Choose three sides: potato or macaroni salad, slaw, fruit salad, macaroni and cheese, spicy Southern greens, and roasted corn. Served with Hawaiian Sliders or onion rolls. BBQ jackfruit option is Vegan.
*Add Smoked Brisket, sliced to order (5.5-6 lbs)
*Baby Back Ribs (3 lbs/10 bones) 3 rack minimum
AMERICAN
A little something for everyone. Includes our delicious meatballs in mustard cream sauce, shrimp cocktail board, tea sandwiches, cheese board, veggies, and dips (ranch/hummus) and fruit.
*Includes choice of coffee or iced tea*
DRINKS
Freshly made Herbed floral lemonade, Sassy Sun Tea, or Agua Jamiaca (Hibiscus Tea)
DESERT
A sheet cake serves 25 people
__________________________